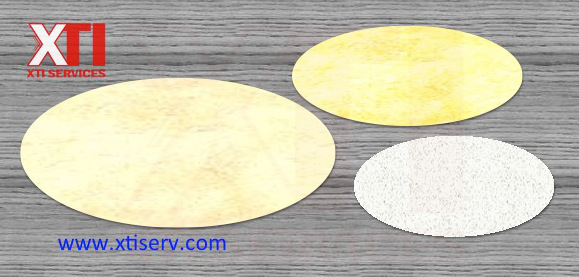 We supply precious metal sputtering targets of high purity metals, ranging from 99.95% to 99.999%. Most coaters in laboratory uses with most standard disc sizes, for use on most sputtering units from many manufacturers: Emitech, Emscope, Bio-Rad, Polaron, Edwards, Balzers, Plasma Sciences, Technics Hummers, Denton, Cressington, and much more.
Our targets comes in a standard thickness of 0.1mm (100μm). Other thickness, ranging from 0.05 to 6mm, are available upon request. Targets are available mounted or unmounted whichever you prefer. For mounting please always state the make and the model of the sputtering unit so we can tend to it for you. Targets in other materials such as Chromium, Iridium etc. are available upon request. We also can manufacture targets with diameters from 4 mm to 304.8mm (12").
Composite Targets
We are able to supply composite targets of various materials meeting customers requirement in ratio, molar % & atomic %. Some highly complicated composite targets which factory encounter and supplied are namely SrRuO3, Bi2Sr2Ca2Cu3O, Ba2NaNbO15, Me3Fe2O5, SrxBa1-xNb2O4, Li3PO4, Ca5(PO4)3(OH) etc.. Most composite target are bonded to a bonding plate for better heat distribution with metals such as copper or Molybdenum.
Sputtering Targets and their Applications:
Applications of sputtering range from semiconductor industry for Thin Film deposition of various materials in integrated circuit processing, to architectural window glass for energy conservation, decorative with familiar gold-coloured hard coating created by Titanium Nitride and hardwearing coatings for tools and consumer goods, to deposition of metals during fabrication of CDs and DVDs . Often the purchase of composite target from XTI Services are customers from research institution involved in R&D.